€

695.00
Emergency Casualty Care Box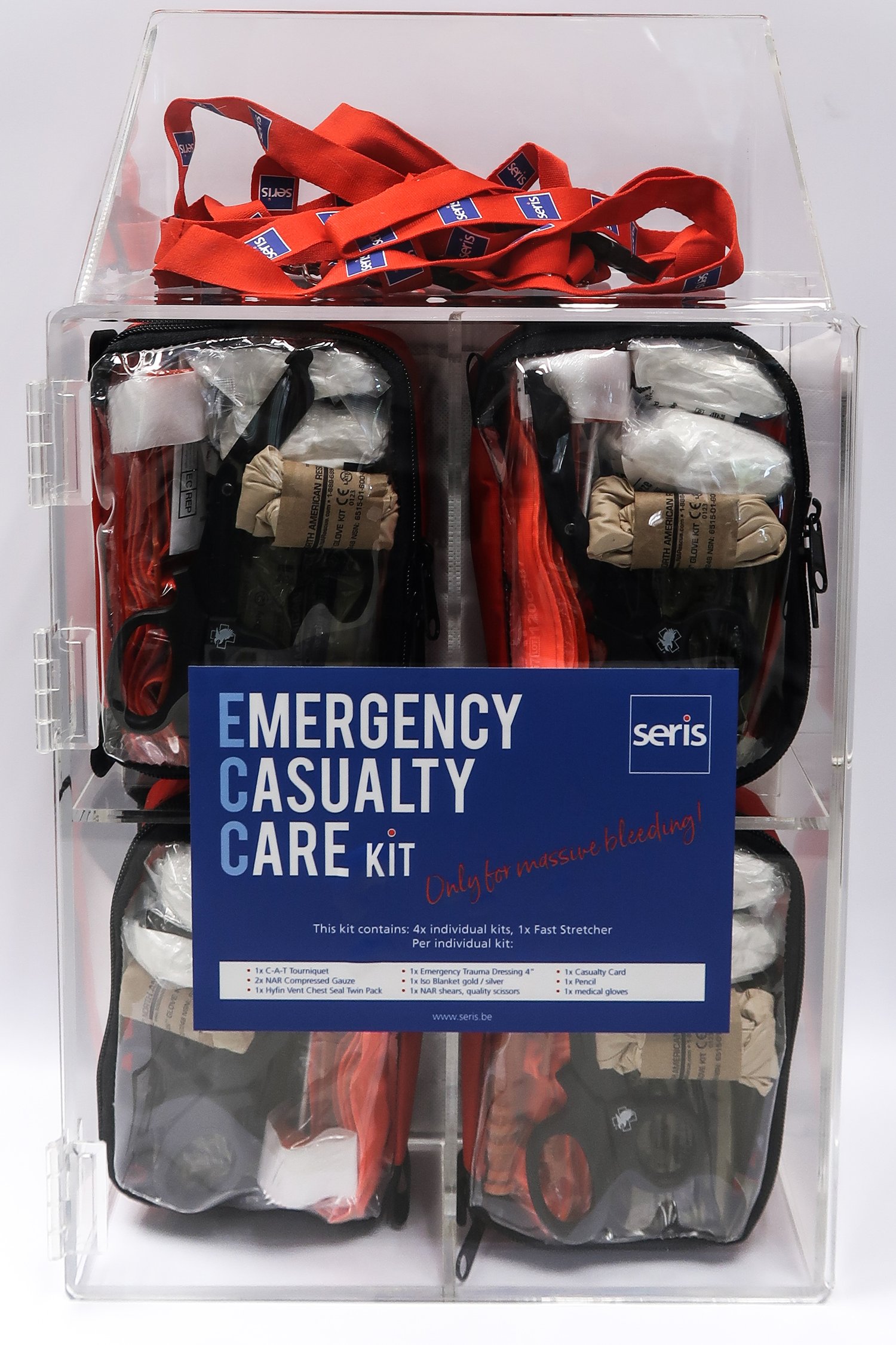 In case of a severe bleeding as a result of a serious accident, an attack, explosion, ... the basic first aid kits do not fulfill first responder's needs. Equipe your site with ECC kits, designed to save lives and to fit your place with high quality plexiglass and a good looking design!
This kit has been composed in coordination with our experts in relation to the 'Emergency Casualty Care' training sessions provided by SERIS Academy, only containing the best material on the market. For more information about our ECC training sessions, visit https://seris.be/en/catalogue/categorie/8/safety
Each BOX contains:
1x High quality plexiglass custom designed case
4x Casualty cards with lenyard
1x FAST Stretcher
4x Individual ECC kits containing each:
- 1x Bleeding Control Kit (Red) - Transparant
- 2x FoxSeal Vented
- 1x Rescue Blanket gold/silver
- 1x C-A-T Tourniquet GEN7 Rescue Orange
- 1x NAR Emergency Trauma Dressing (ETD4")
- 1x NAR Compressed Gauze Red Tip
- 2x NAR Bear Claw Kit size L (1 pair)
- 1x NAR Trauma Shears 6,25"
- 1x QuikClot Gauze Z-Fold hemostatic X-ray strip
- 1x Staedtler Lumocolor Permanent Marker Black
Prices and availability of products are subject to change without notice.
If a specific product/brand you ordered is not available, we will inform you as quickly as possible or suggest an alternative with same functionality.
Please mail us for most actual price and product availability via: information.academy@seris.be
Train your staff or hire a trained SERIS Security guard. As a pioneer in this field, SERIS Security nv (ibz 16.1065.10) structurally invests in training gradually all it's 1700 security guards to gain ECC competences, taking its corporate social responsibility to create a safer and more efficient society.